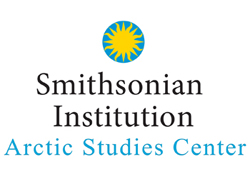 Alaska Native heritage is woven from the beliefs, values, knowledge and arts of the Iñupiaq, Athabascan, St. Lawrence Island Yupik, Yup'ik, Unangax̂, Sugpiaq, Eyak, Tlingit, Haida and Tsimshian peoples. Their diverse languages, cultures and histories are the foundation for contemporary lives.
We invite teachers, students, parents and lifelong learners to explore Alaska Native cultures, museum objects, communities, videos and educational resources shared here. Learn about the peoples of this northern world from elders, culture-bearers, scholars and artists.
About Us: In 1994, the Smithsonian Institution's Arctic Studies Center (ASC) opened an office in Alaska at the Anchorage Museum, where staff members work with Alaska Natives on collaborative research and educational programs. In 2010, ASC opened the long-term exhibition Living Our Cultures, Sharing Our Heritage: The First Peoples of Alaska. It presents Indigenous voices, perspectives and knowledge through more than 600 masterworks of Alaska Native art and design from the Smithsonian's National Museum of Natural History and National Museum of the American Indian collections. Through their ongoing work, the ASC makes Smithsonian resources accessible to Alaska Natives and the general public.