Who Belongs?: Using Collections to Think about Immigration
By: Laura Lamarre Anderson, Grade 4 Teacher, STEM Academy at the Rogers School in Lowell, MA
I am immersed in work for my certification to become a Reading Specialist, fine tuning my skills in reaching struggling readers. At some point in every text, the authors and researchers stress the need to connect with student interests and to build on strengths to shore up weaknesses. With this in mind, I started pulling together resources for our 4th grade Social Studies unit on immigration.
When I started searching the Learning Lab, this pin from the Latino Civil Rights Task Force grabbed my attention early on. This might help students explore the idea of labels--the labels we apply to ourselves and those imposed upon us. Pilgrim, Yankee, Immigrant, these are important words in New England. The words on that pin bring to light that we are always thinking about who belongs.
Elementary students like to talk about themselves and when we can connect reading and writing work directly to their own lives we hook more students in. We start the unit by talking about what students already know about immigration, giving them time to share stories from their families in small conversational groups. When we start charting what they know on posters around the room, they quickly see the connections between their own stories and those of their classmates. And they are ready to connect to the history.
My collection "Who Belongs in Massachusetts?" is a work in progress, inspired by our state standards and by the questions 4th graders ask about immigration. It relies on a lot of conversation. Struggling readers benefit from talking through ideas both before and after reading. What's more, their conversations serve as a guide for the teacher as we search for the best texts and resources to support their learning. We teachers learn early in our careers to assemble resource collections that we can draw from to address student needs each year.

In a city like Lowell, rich with a constant flow of immigrants moving in from all over the world, the question of "who belongs" comes up frequently. After facing discrimination themselves, some second- and third-generation Irish immigrants railed against the newcomers who came after. And the cycle continues with each new group of immigrants facing challenges to their rights to be here. Several students in my classroom have come up against challenges to their right to be in Massachusetts, their right to be called American, because of where they or their parents were born. With this in mind, I tried to choose images that reflect the challenges of immigration, that would help generate conversations about how people were welcomed at different points in our history, and that help us to begin thinking about what it means to be an American.
This collection is intended to be used by students, in conjunction with a series of lessons with the teacher and small group assignments. I can imagine changing this collection in some ways when I meet next year's students, but at the heart of the lesson is time to observe, to think, to talk, and to respond. My ultimate goal is to have students see that we all belong in Massachusetts.
Laura created this collection during a Teacher Creativity Studio workshop at the Tsongas Industrial History Center in Lowell, MA. The workshop received Federal support from the Asian Pacific American Initiatives Pool administered by the Smithsonian Asian Pacific American Center. The Lowell workshop was presented in partnership with the University of Massachusetts, Lowell Center for Asian American Studies.
---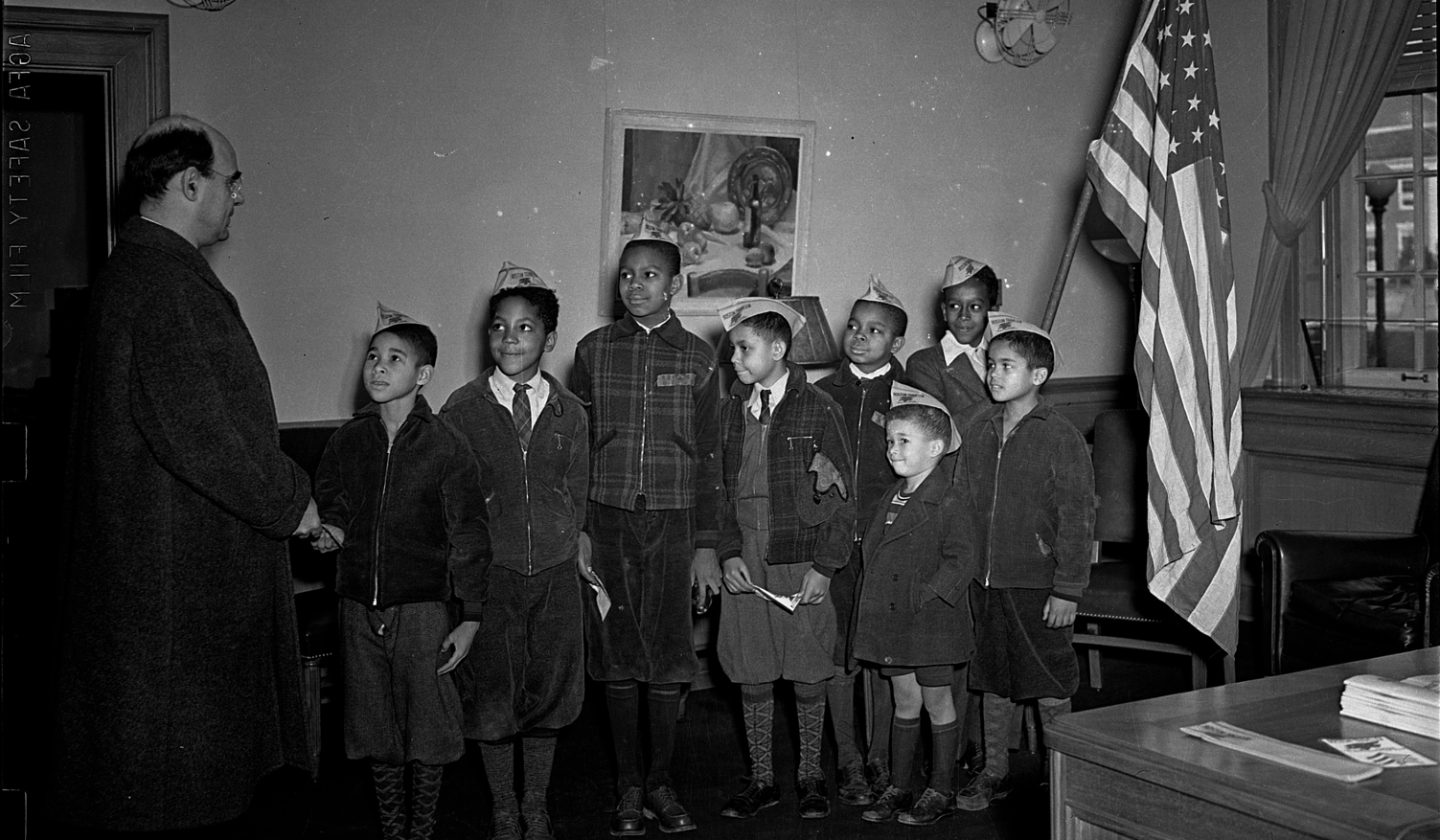 Image: [Mordecai Johnson (?) with a group of boys wearing hats with "BOSTON TRAVELER" printed on them, in room with American flag] [cellulose acetate photonegative] No ink on negative. Johnson appears to be handing an object to one of the boys. "3 AGFA SAFETY FILM" edge imprint. Archives Center, National Museum of American History.