Recently, SCLDA hosted the 2015 State Teachers of the Year for a day of behind-the-scenes "show and tell" at the Smithsonian, during which we introduced the Learning Lab and had informal discussions about what America's best teachers expected from Smithsonian digital resources. At my table, one teacher's eyes lit up when I asked her how she and her English language arts students might benefit. "Well, this will be a resource that I can trust," she said. She meant it both from a content perspective—after all, the Smithsonian cares for much of the "official" stuff that forms part of our national story—as well as from a safety perspective.
As educators, parents, and lifelong learners ourselves, we recognize the importance of the trust that users of the Learning Lab will place on the Smithsonian. We are taking steps to ensure that we meet public expectations for online privacy and student data management in an online education portal. The Smithsonian implements its Privacy Program through the Smithsonian Institution Privacy Statement and for our young users, the Smithsonian Kids Online Privacy Statement. Throughout the development of the Learning Lab we've been engaged with like-minded partners, such as the Cyber Law Clinic at Harvard University's Berkman Center for Internet and Society, to address considerations for making the platform a safe online resource for teachers and their students. We've examined legislation including the Children's Online Privacy Protection Act of 1998 ("COPPA"), which protects the data collection rights of our youngest site users, and the Family Educational Rights and Privacy Act of 1974 (FERPA), which protects the privacy of student education records.
We're excited to develop a site that strongly supports the rights of students and parents, respects student privacy through transparent data collection practices, and provides a safeguarded environment for youth users.
---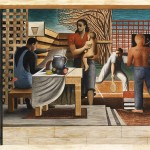 Image: Security of the People
(Study for mural, Old Social Security building, Washington, D. C.)
Seymour Fogel, 1941. Smithsonian American Art Museum, Transfer from the General Services Administration.