Looking Closely to See Far
As an educator in the office that built and manages the Smithsonian Learning Lab, I make presentations and offer professional development about it in schools all over the country. I demonstrate how to use the Lab and how it can support and enhance instruction. One of the most popular and effective approaches my colleagues and I have found is to incorporate into a collection a flexible and open-ended structure such as that of Visible Thinking Routines. These research-based routines developed by the Project Zero team at the Harvard Graduate School of Education are not intended as one-time strategies but rather daily habits of mind that work in in many contexts.
The Smithsonian collections are replete with visual riches such as artworks and photographs, so the " See/ Think/ Wonder" routine, "for exploring works of art and other interesting things," has been a great place to start. The following collection "Jazz and Blues," by educator Yolanda Toni, is a middle school language arts lesson that uses the approach to get students thinking about and discussing a painting. Note that the painting is the first image you'll see when you click on the link:
This straightforward routine consists of three simple questions. Click on the square to the right to view the full routine and see suggestions for use in the classroom.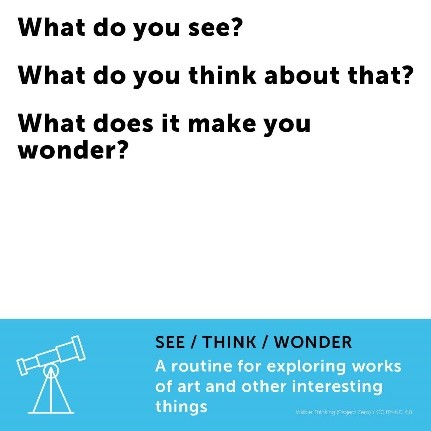 Check out some other collections that incorporate this routine.
In future posts we'll explore other thinking routines that can help you make the most of the Smithsonian's digital resources. If you use the routines, we invite you to make a collection in the Lab and publish it so others can see it in practice.
---
Image: Woman Shading Her Eyes (detail), by Raphael Soyer
Hirshhorn Museum and Sculpture Garden, Smithsonian Institution, Washington, DC, Gift of Raphael and Rebecca Soyer in Honor of the Museum's Founding Director, Abram Lerner, 1981

Visible Thinking by Project Zero is licensed under a Creative Commons Attribution-NonCommercial 4.0 International License.