Exploring the Chemistry of Space Flight
By: Virginia Miller, Associate Professor of Chemistry at Montgomery College, Rockville, MD
I teach freshman chemistry at Montgomery College, the largest community college in Maryland, which serves a diverse population of approximately 60,000 students from over 150 countries. I was introduced to the Smithsonian Learning Lab when I participated in the Montgomery College-Smithsonian Faculty Fellowship Program. I am always seeking innovative tools to enhance student learning and engagement, and I like how the Learning Lab provides a unique way for students to interact with images and information. I was curious to see how students would respond to this novel resource so I decided to integrate it into my general chemistry course.
I recently incorporated an underlying theme, Exploring Chemical Connections in American Space Flight, into this course because I wanted to encourage the next generation of scientists and innovators to apply the lessons of the past to the challenges of tomorrow. This specialized course gave students a chance to explore basic chemical concepts, such as the properties of matter, behavior of gases, chemical reactions, thermodynamics and molecular structures, within the context of space flight technologies. As a result, they were able to witness, and connect with, specific real-world applications of chemistry.
I used the Learning Lab to create several at-home activities so that students could continue to engage with these topics outside of the classroom. Each activity (collection) focused on a particular aspect of chemistry and space flight and consisted of short videos, articles, websites and images of artifacts from the Smithsonian National Air and Space Museum. I included this variety of media in my collections because I felt that students, who tend to be visual learners, could more easily relate to an assortment of captivating images and videos as opposed to stand-alone texts.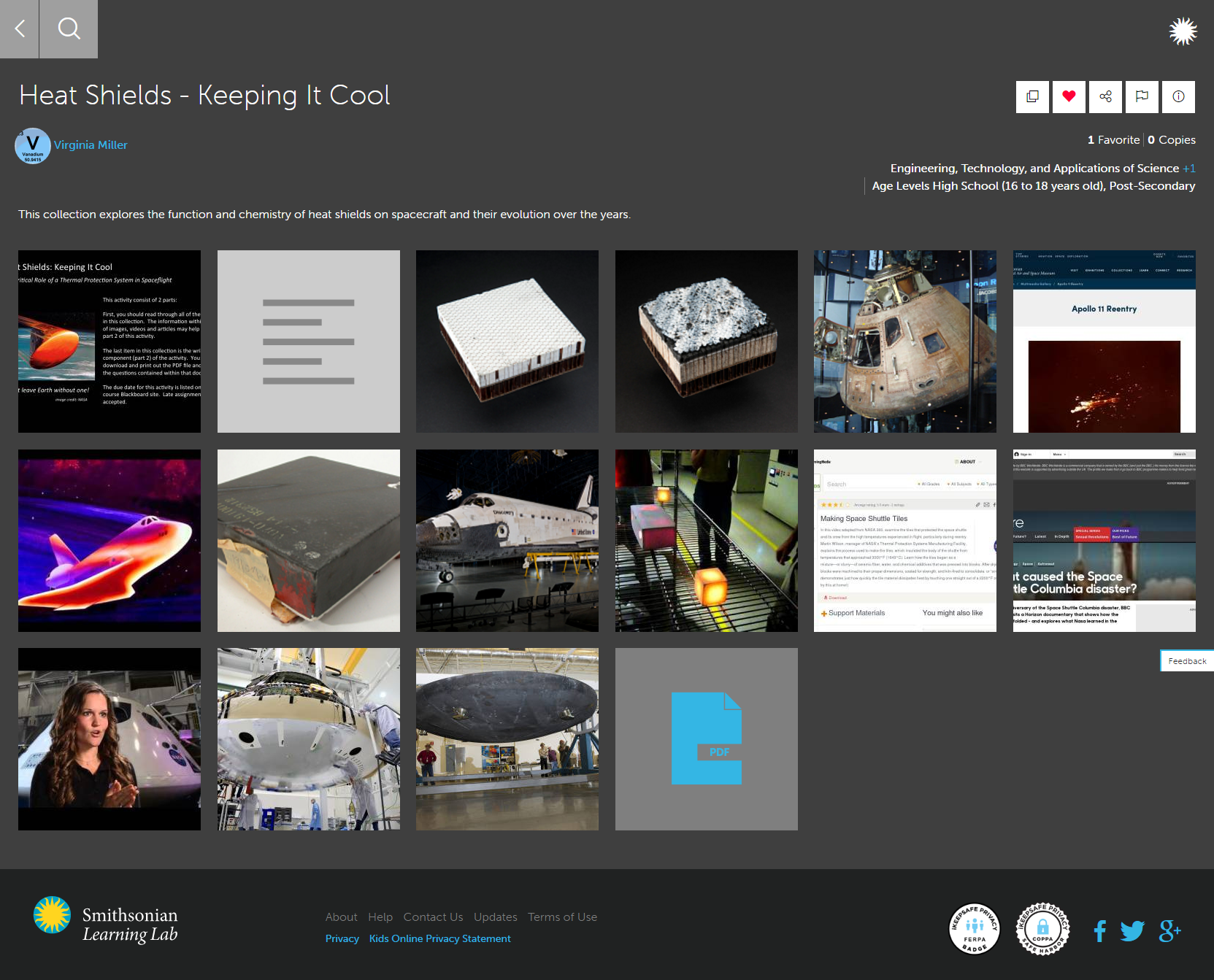 For example, using my collection Heat Shields - Keeping It Cool, students explored the function and physical/chemical properties of a spacecraft's thermal protection system (a.k.a. the heat shield). They learned about the difference between an ablative (non-reusable) and thermal soak (reusable) heat shield and viewed examples of each from the National Air and Space Museum archives. I included images of the Apollo 16 Command Module and the Space Shuttle Discovery and used the hotspot tool to highlight the location of the heat shield on each spacecraft.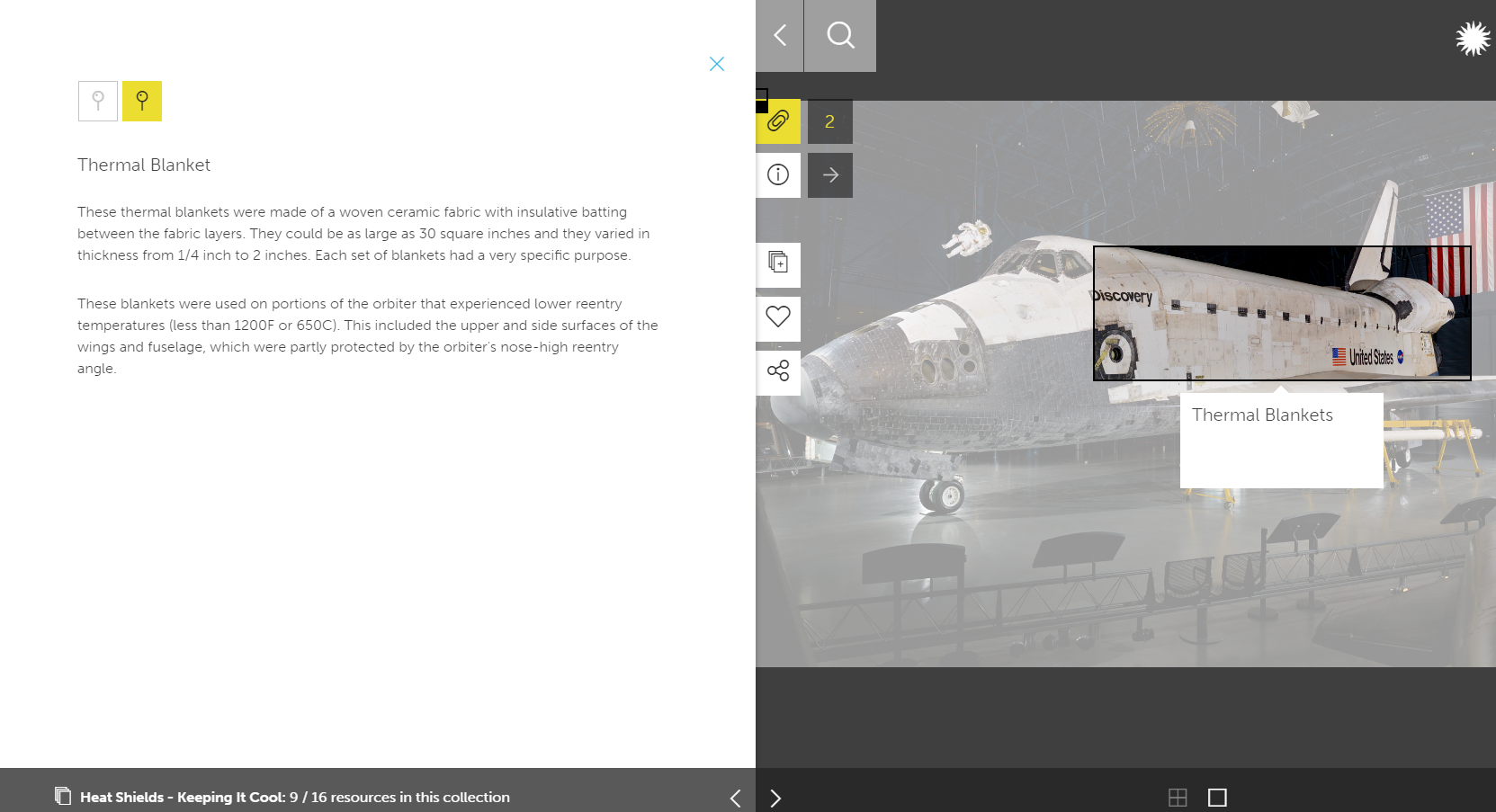 I also incorporated several videos into the collection; one video explained the purpose of the heat shield and another described the manufacturing process involved in making the Space Shuttle's thermal tiles. I added an article that discussed the physical/chemical properties of these tiles and explained how you could touch a 2200 °F thermal tile without burning your hand! Since this was an at-home assignment, I needed to ensure that students actually engaged with the collection. To do this, I added a short worksheet (in PDF format) at the end of the activity. This worksheet consisted of questions related to the information presented in the collection. Students had to print out this document, answer the questions and then submit it for a grade.
I used this collection in conjunction with my in-class discussions on heat transfer and thermochemistry. My students really enjoyed the activity because it helped them see the real-world applications of the material covered in class. When asked to reflect on this type of assignment, one student said, "I enjoyed doing the Learning Lab activities because they helped me visualize the chemistry I learned on a macroscopic level."
---
Image: Orbiter, Space Shuttle, OV-103, Discovery.
Discovery was the third Space Shuttle orbiter vehicle to fly in space. It entered service in 1984 and retired from spaceflight as the oldest and most accomplished orbiter, the champion of the shuttle fleet. National Air and Space Museum.