By: Kate Harris, Learning Lab Coordinator, Pittsburgh, PA
As we prepared for our third workshop with the Pittsburgh cohort of teachers, we realized one of the greatest challenges for teachers new to the Learning Lab was building and using collections in meaningful ways. Teachers use collections all of the time, but call them by different names: primary source sets, document-based questions, webquests, etc., but we don't always think about what makes these groupings effective. We decided to tackle that idea over the course of the day's professional development, and used many of our resources at the Heinz History Center (HHC) to do so.
Curators build collections every day—it's part of their job. So after consulting with two of the HHC's curators, we decided to bring teachers to the Special Collections gallery to start their day. Teachers were tasked with thinking about how the items in the exhibits were linked and how they could be used in the classroom. The Special Collections gallery was great for this because the different groupings represent a number of ways to organize material—e.g. there were assortments of stoneware that could be useful for a compare and contrast activity, a donation from a single immigrant family that allowed visitors to reconstruct their experience, or the remains of an archaeological dig of a particular locale. Teachers noted that some collections translated into an easy link in the classroom, while others felt more forced. This activity set the stage not only for the rest of the day's activities, but for future professional development where we would look at other ways to use objects in concert with one another.
We moved from there to the Detre Library and Archives, where archivist Sierra Green prepared a session on building narratives from archival collections, using the Weikers Family Collection. Teachers were to use a close reading of the documents to reconstruct the story of the family—from their hardships in Nazi Germany to their resettlement in the United States. Using an actual family as the basis for historical study reminds students that they are just that, real people who had real emotions and took real actions. But the activity also allows a teacher to connect from the specific (one family) to the larger historical experience and to allow students to practice source analysis and literacy skills.

After working with tangible materials in the museum, it was now time to bring our ideas about using collections as sources for historical narratives into the digital realm—the Learning Lab. Teachers were given a framework to use emphasizing characters, setting, and plot as a guide for analysis of collections from particular era. Aubrey Gennari adapted the activity for her World History class, and had students develop tales of life in Ancient Rome. Gennari stated that
The students enjoyed it immensely! However, since it was outside the norm of our typical assignment type, it took some students a while to understand the expectations. Where we usually ask students to learn and retain information from a reading, and then synthesize the information, this activity asked them to apply their knowledge in a creative way…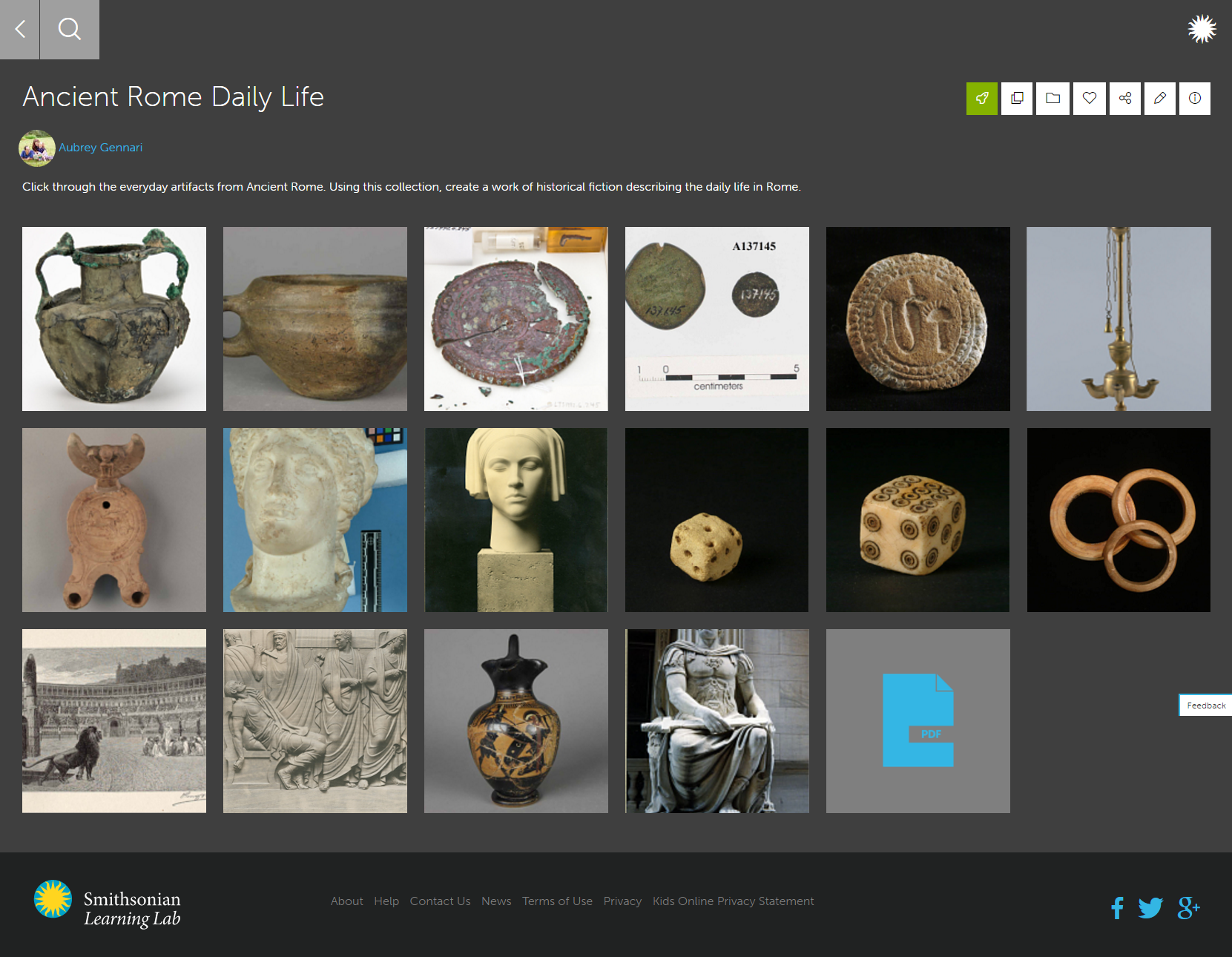 Gennari's comments reflect the ultimate goal of activities such as this one: They invite students to think creatively about the experiences of people living in the past, a task that requires deep analysis of the time period and inspires an emotional connection to the material. As teachers explore the objects available in the Learning Lab, we hope the resources will not only inspire them to tell stories about the past, but to have their students investigate and create these stories as well.

---
This post is part of an occasional series in which we invite colleagues who have worked with us this school year in Pittsburgh to share their experiences and examples of collections they have created.