By: Linda Muller, Learning Lab Coordinator, Pittsburgh, PA

What's the best way to engage sixth graders in a lesson about African geography? Lead them to the Smithsonian Learning Lab and let them explore Africa's regional cultural history first. At least, that's what Kelly Heilman's students at Pittsburgh Langley K–8 middle school did. Heilman was tasked with creating lessons for curiously-active students who need hands-on learning experiences instead of relying solely on their reading abilities to understand academic content.
Heilman started her unit of instruction on African geography by introducing students to various regions and the groups of peoples who have inhabited them over time. To complement her lesson, she used the Learning Lab to design a collection that included images of 12 African masks from the Smithsonian's National Museum of African Art. These masks originate from various countries including Mali, Cameroon, Liberia, Sierra Leone, Guinea, Nigeria, and the Congo. Each mask was created using different indigenous materials such as wood, iron, cloth, animal horns and skin, plant fibers, or bamboo, and colored with natural pigments. The Learning Lab image of each mask included information that Heilman's students read and discussed as they worked together in small groups. This information helped her students understand where the mask came from, which group created it, and what it represented and was used for. Heilman designed a worksheet that students used in tandem with the Learning Lab collection to record their responses as they analyzed each resource.
After the students examined all of the masks, they designed their own based on or inspired by the originals. Each described how they created it and explain what it represented to them.

Next, Heilman continued her unit on African geography using the Learning Lab as a digital learning platform by uploading resources from an external website so her students could learn about Libyan rock art. This collection contains 10 images of rock art, along with photographs of the Wadi al-Ajal in the Fezzan region of southwest Libya.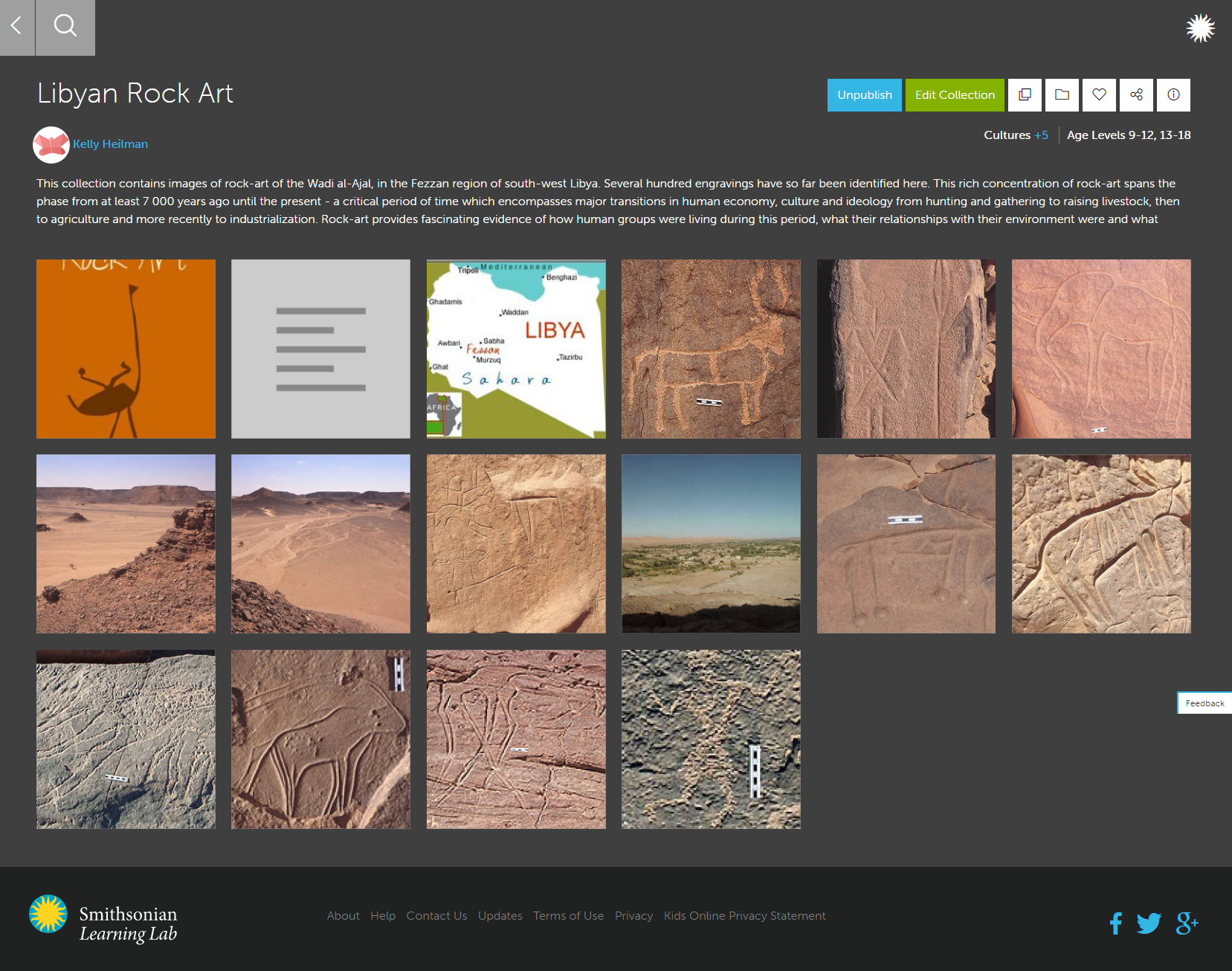 This time, Heilman's students focused their analysis around the guiding investigative question, "If an ancient civilization did not have a written language, what are some of the ways that we can know about their culture?" During the warm-up, Heilman projected an image of rock art onto a screen and led a whole group discussion around the following questions:
What is shown in this image of rock art from ancient Africa?
What do you think life was like then compared to your life now?
What skills would people have needed in order to survive?
Afterward, students worked in pairs at computer workstations and used a graphic organizer to chart their responses as they analyzed each example of rock art contained in Heilman's Learning Lab collection. As students progressed through the resources in the collection there were opportunities to compare and contrast two images of rock art to discern what techniques the artists may have used to etch the images into the rock. This learning activity culminated with students writing a few sentences that addressed the guiding investigative questions. Finally, students applied what they learned about rock art by creating their own rock art design using black construction paper and colored chalk.
I asked Heilman what she thought about using the Learning Lab to facilitate these lessons and she told me, "My students really enjoyed working with the Smithsonian Learning Lab because the Learning Lab gave my students a deeper, hands on experience."
Kelly Heilman successfully constructed two highly relevant and interesting collections using the Smithsonian Learning Lab and twice found a way to engage students in a lesson on African geography.
---
Primary Image: Stamp World Map
A digital rendering of a world map created by collaging antique postage stamps over a field of patinated canceled envelopes. Designer: Sir Paul Smith, English, b. 1946 Manufacturer: Maharam, New York, New York, USA, founded 1902. Gift of Maharam. Cooper Hewitt, Smithsonian Design Museum.
Image Grid:
Helmet mask
National Museum of African Art
Face mask
National Museum of African Art
Student photos courtesy of Kelly Heilman