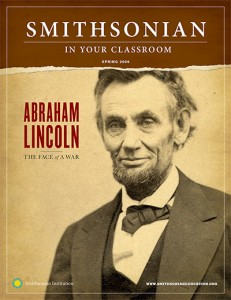 The Smithsonian Center for Learning and Digital Access (SCLDA) (formerly the Smithsonian Center for Education and Museum Studies, and even more formerly the Smithsonian Office of Primary and Secondary Education) focuses on making the Smithsonian more accessible to teachers and their students. In the past this was done primarily through professional development and publishing. For 35 years, the office published, printed, and mailed to every elementary and middle school in the United States a teacher magazine, first called Art to Zoo, and later Smithsonian in Your Classroom to share the resources of the Institution with a broader audience.
The Smithsonian itself has been committed to supporting the work of educators with teaching resources since 1900 when we began distributing "school sets" of specimens. Almost a century later, in 1995, the Smithsonian went online, and in the proceeding years launched a series of websites focused on providing information and then lesson plans to teachers. In 2003, SCLDA launched SmithsonianEducation.org, whose main feature is an indexed collection of learning resources, aggregated from across the Smithsonian, that are aligned to all state, national, and Common Core standards of learning. Today, this database of digital learning resources contains more than two thousand items created by Smithsonian educators aided by teachers, with guidance and review by our curators and researchers. Other Smithsonian websites also offer digital collections and tools in specific subjects, but the Center's unique goal among Smithsonian websites is to provide access to all Smithsonian resources that are relevant for classroom learning in the most useful ways.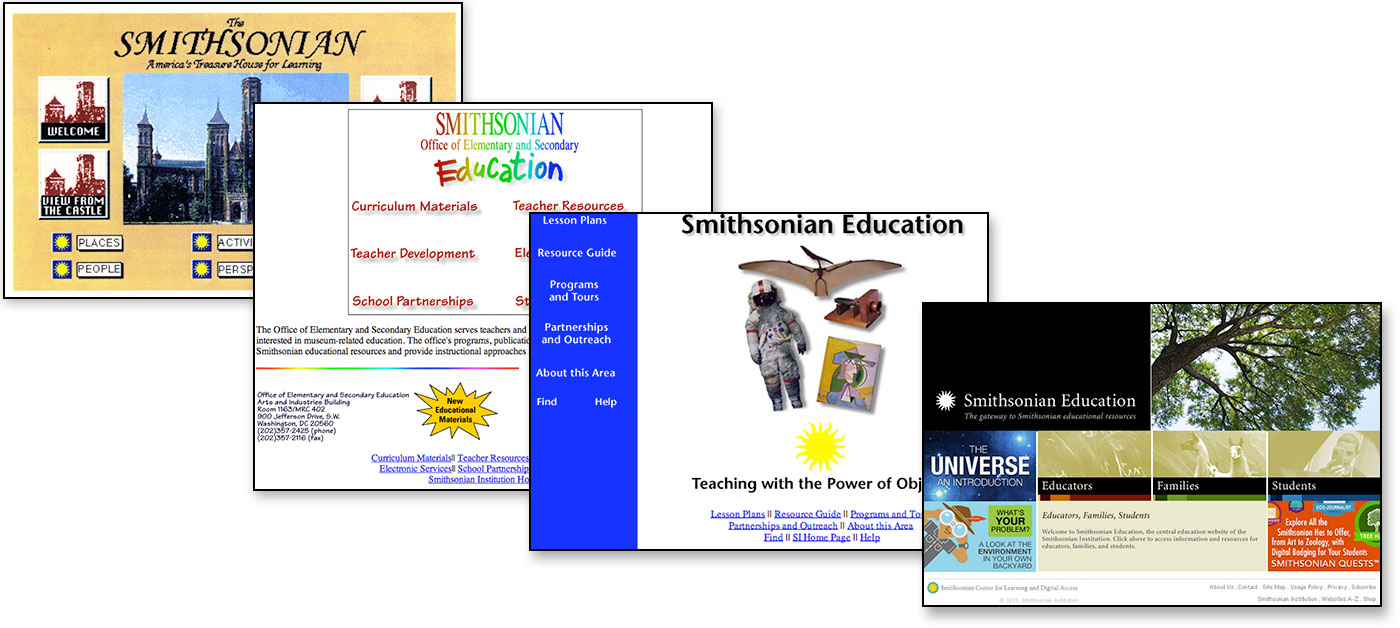 When we investigated the actual use of most lesson plans and instructional materials, however, teachers said that they do not use the resources as published, preferring instead to deconstruct, rearrange, adapt, and pick-and-choose elements that suit the needs of their curriculum and students.[1] This time-consuming experience discourages repeat visits to our sites and usage of our resources.
Too we recognized the realities of changing environments within formal education. The Internet and World Wide Web have created a profound impact on the education community. The ongoing funding crisis in education, combined with rapid advances in technology – in communications and content accessibility – are challenging relationships with information and learning.[2] Informal learning experiences that incorporate web communication technology such as social media are growing at a rapid pace and are considered by organizations like the National Science Foundation to be a natural bridge to school learning.[3]
There is a good deal of consensus around standards for teaching and learning and the core set of skills needed for academic success in the 21 st century. At present, 43 states and 4 territories have adopted the Common Core standards, and school systems in these states are aligning or have aligned their curricula to ensure that America's students acquire the necessary skills to remain competitive in an ever increasing global marketplace. The Next Generation Science Standards also provide a framework for how teachers should build learning experiences that: foster connections, are multidisciplinary, and are relevant to students' lives.
Clearly it was time to reevaluate. We needed a strategy to uncover our next steps, to determine what SmithsonianEducation.org, and the resources it offers, should evolve into. This was the impetus for the Digital Learning Resources Project, the formative research phase of the Smithsonian Learning Lab. We needed to better understand educational uses of Smithsonian digital resources and provide a roadmap for future digital development. The specific research objectives focused on educators' ability to identify, analyze, and extract digital content, with the ultimate goal of enabling all users to achieve their own personal learning objectives through the Smithsonian's resources.
This project aimed to change our online users from passive recipients of prescribed content into active creators of digital resources personalized for learning in their own classrooms.
Throughout the course of the project, in 2012, we shared the documentation and process on the Digital Learning Resources Project wiki.
Project Goals
The Digital Learning Resources Project project had intended outcomes for the short, medium, and long-term. These outcomes were visualized in a logic model (shown below).
Original short-term outcomes were to increase teachers' skills in:
identifying specific Smithsonian digital learning content
analyzing specific Smithsonian digital learning content
extracting specific content from Smithsonian digital learning resources
Medium-term outcomes were to increase:
skills to make strategic use of digital media and visual displays of data to express information and enhance understanding (based on Common Core standards)
creativity
Long-term outcome was to foster:
online users who are active creators of digital resources personalized for learning in their own classroom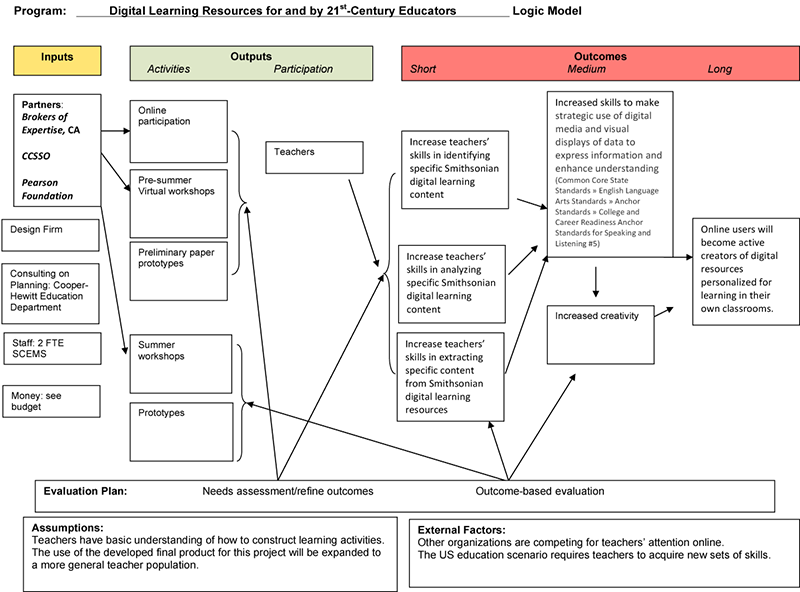 Project Design
The work was organized into four parts that progressed from analysis of previous research; a deep look at relevant literature; a broad investigation, by teachers, into the digital environment in which we hoped to operate; and finally to a series of focus groups and teacher prototyping sessions.
Project Findings
For clarity, we have opted to share the project findings in a series of posts: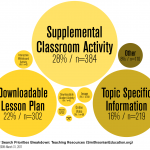 Part 1:
User Satisfaction Survey on SmithsonianEducation.org
Read Who Is Our Audience: SmithsonianEducation.org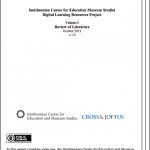 Part 2:
Review of Literature
Read What We Have Learned So Far: Literature Review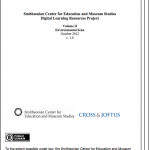 Part 3:
Environmental Scan
Read What We Have Learned So Far: Environmental Scan (Part 1)
What We Have Learned So Far: Environmental Scan (Part 2)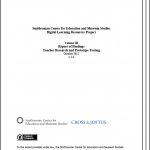 Part 4:
Teacher Research and Prototype Testing
Read What We Have Learned So Far: Teacher Research and Prototyping

The Prototype
Based on the findings of Parts 1–3, our development partners, Navigation North quickly worked to create a web environment with a functional user interface and a set of search, save, organize, and instructional adaptation tools tied directly to the existing Smithsonian database of digitized assets. The goal being to test these functional strategies with teachers. Full access to the prototype is available at: http://scems.navnorth.com
The prototype design incorporates a simple search interface that surfaces content from not only the SmithsonianEducation.org database, but also from the larger Smithsonian Collections database.
Conclusion
The Digital Learning Resources Project revealed to us, in very specific ways, grounded in research, and tested in targeted ways by teachers, what the next generation digital toolset for SmithsonianEducation.org can and should do. It revealed how the carefully conceived prototype, if developed fully into the Learning Lab, could help teachers to more effectively identify, analyze, and extract specific Smithsonian digital learning content, increasing their skills, and assisting them to make strategic use of digital media and visual displays of data to express information and enhance understanding, as well as increase the creativity of their teaching.
This is the work that has become the foundation of the Smithsonian Learning Lab. Our aspiration is to build a platform based on the work of those who have come before us and focused on the needs of real teachers.
---
[1] L. Langa, J. Ito, and G. Monaco, "How Do Teachers Use Material Distributed through Smithsonian Teachers' Night?" Visitor study, in process; Foresee Study of SmithsonianEducation.org, March 2011; M. Leftwich and M. Bazley, "Pedagogy and Design: Understanding Teacher Use of On-line Museum Resources," in J. Trant and D. Bearman (eds.) Museums and the Web 2009: Proceedings. Toronto: Archives & Museum Informatics, published March 31, 2009, consulted August 18, 2011, http://www.archimuse.com/mw2009/papers/leftwich/leftwich.html; M. M. Recker, J. Dorward, et al., "Discovery and Use of Online Learning Resources: Case Study Findings," Educational Technology & Society, 7 (2), 2004, 93-104; Nicole Stutzman, Dallas Museum of Art, and Sharisse Butler, Institute for Learning Innovation, Changing Teaching Materials through Evaluation and Collaboration with Teachers, 2011.
[2] Kratz, S., & Merritt, E. (2011). Museums and the Future of Education, On the Horizon, Vol. 19 Issue: 3, pp.188 – 195.
[3] Bull, G., Thompson, A., Searson, M., Garofalo, J., Park, J., Young, C., & Lee, J. (2008). Connecting Informal and Formal learning: Experiences in the age of participatory media. Contemporary Issues in Technology and Teacher Education, 8(2).
---
This post summarizes, and at times excerpts from a series of original research reports commissioned by the Smithsonian Center for Learning and Digital Access from our formative research collaborators Cross & Joftus and Navigation North in 2012. The following individuals, in addition to the author, made significant contributions to the research design, data collection, analysis, and writing of the original reports and should be acknowledged and credited: for SCLDA: Michelle Smith, Pino Monaco, Melissa Wadman; for Navigation North Learning Solutions: Joe Hobson, Brian Ausland, Daniel Krieger, MaryRose Lovgren; and for Cross & Joftus: Christopher Cross, Virginia Adams Simon, John Ittelson, Clark Quinn, Dilan Maherdran, Virginia McMunn, Griffith Montgomery, Jillian Ryan; and Steve Midgley.
The Digital Learning Resources Project was funded by a Smithsonian Youth Access Grant administered by the Office of the Assistant Secretary for Education and Access, with contributions by the Pearson Foundation, Brokers of Expertise of the California Department of Education, and the Council of Chief State School Officers.
---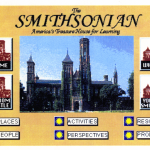 Image: The Smithsonian, America's Treasure House for Learning, website homepage, 1995 (via the Internet Archive Wayback Machine)