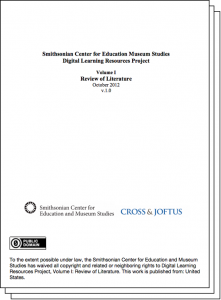 In the Spring of 2012, as part of the formative research for the Learning Lab, SCLDA conducted a literature review to address this question:
How will museums in general, and the Smithsonian in particular, adapt to and remain relevant in the digital age with search, social, mobile components, and instructional tools for learning.
A literature review is simply an investigation (in this case a systematic review) of the scholarly research and findings, as well as related theoretical and methodological practices in a particular field, or related to a particular line of investigation. We first sought to explore the existing literature on web-enabled pedagogies, evolving teacher roles, and the relationships between museums and educators made possible in the digital age. As is often the case, this broad inquiry quickly became a large and unwieldy endeavour, so we focused our investigation further to uncover what we hoped would be actionable recommendations for building the project prototype:
How can we help teachers find and use the resources they need more easily, and
Institutionally, how can we ensure our collections and other resources get maximum exposure on the web and within other content repositories and search engines.
The report itself ( 34 pages available for download and reuse on the research wiki) contains a host of valuable insights and frameworks for projects being developed to address the evolving world of digital learning (covering topics such as promoting effective metadata, crowdsourcing, distributed curation, mobile, and more), but points to four primary recommendations that we incorporated into our work for the Learning Lab:
1. Optimize Search and Metadata
Studies on findability and interface design in large digital museum collections indicate the need to examine the extent to which the interface, tagging, and filters as designed within a site architecture are providing optimal searches for their intended audience. An ideal site should demonstrate the following functionalities:
Simplified searches and returns (that include a comprehensive listing of assets from all digital Smithsonian repositories)
Filters (built from a teacher's perspective)
Folksonomies (these can increase user engagement as well as findability and should be afforded visibility in addition to centrally determined taxonomies)
Additional recommendations:
Improve initial metadata for browsing/analyzing resources as coordinated with flexible view options when reviewing returned results
Visual representations of the resources, include relevant file format information, resource types
Provide learners and educators increased means to select, assemble, save, and organize items for extended use and investigation
2. Expand Partnerships and Data Sharing
Government and nonprofit efforts to provide mechanisms for data sharing from large repositories of digital learning resources and community sites for content sharing indicate a growing need for respected and authoritative content providers such as Smithsonian to join more fully. This type of activity could prove beneficial to SCLDA and the larger Smithsonian Institution. Further work and study should be prioritized in order to:
Define business models or benefits to Smithsonian for sharing with particular partners
Develop list of potential partners
Implement LRMI 1.0 tagging and markup conventions
Create outreach strategy and metrics to monitor success
Provide single-point, curated metadata to partners in multiple, machine-readable formats
Continue Smithsonian publication data in Learning Registry framework
3. Respond to Teacher Needs
Studies on digital learning in the classroom and use of digital museum resources indicate that teachers need flexibility to create curricular sequences that meet the learning needs of their particular students. One-size-fits-all lesson plans are rarely utilized as presented, but often are taken apart, reorganized, or augmented by the teacher while building a lesson. User testing and prototype design should explore these findings in greater detail regarding teachers' need for:
Flexible assets for use in multiple ways with students to engage their interest
Tools that maximize the use of high-quality images
Tools and suggestions to help adapt resources to diverse learners that are not overly scripted
Content aligned to Common Core State Standards
Dedicated space on the site to collect and save resources
Preferences for viewing content and search results
4. Investigate Tools and Trends
Trends in the use of social media and mobile/tablet use in schools is expanding and gaining greater acceptance ( see the New Media Consortium Horizon Report, K–12 2014 Edition). It is critical, however, that a strategic approach to web, community, and mobile learning should be taken before large investments are made:
Incorporate mobile-friendly features in current site content and functionality
Research the extent to which teachers would share content or participate in online communities
Geolocation tools and augmented reality are emerging trends, which bear consideration for the K–12 mobile learning audience
Examine carefully the specific value-added of any mobile learning application along with costs associated with its on-going management, weighing them against the advantages of mobile web investments
The full literature review is available for download and reuse on the research wiki.
---
This post summarizes, and at times excerpts from an original research report commissioned by the Smithsonian Center for Learning and Digital Access from our formative research collaborators Cross & Joftus and Navigation North in 2012. The following individuals, in addition to the author, made significant contributions to the research design, data collection, analysis, and writing of the original reports and should be acknowledged and credited: for SCLDA: Michelle Smith, Pino Monaco, Melissa Wadman; Navigation North Learning Solutions: Joe Hobson, Brian Ausland, Daniel Krieger, MaryRose Lovgren; and Cross & Joftus: Christopher Cross, Virginia Adams Simon, John Ittelson, Clark Quinn, Dilan Maherdran, Virginia McMunn, Griffith Montgomery, Jillian Ryan; and Steve Midgley.
The literature review was funded by a Smithsonian Youth Access Grant administered by the Office of the Assistant Secretary for Education and Access, with contributions by the Pearson Foundation, Brokers of Expertise of the California Department of Education, and the Council of Chief State School Officers.
More information on Literature Reviews.
---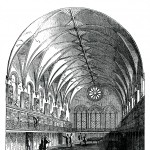 Image: Library in the Smithsonian Institution Building, 1857
Print of an engraving of the library in the west end of the Smithsonian Institution Building, or "Castle." The engraving was published in the Smithsonian Guidebook of 1857. Men and women are looking at books and talking. Busts can be seen on the upper balcony.