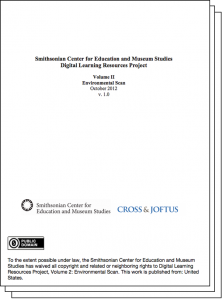 This is part 2 (read part 1 here) of a post summarizing the second phase of investigation that was conducted during the formative research phase of the project in 2012. Following the literature review, in order to gain insight into the current trends in digital learning, an environmental scan was conducted to inform development of the Learning Lab. A list of 32 websites for review was developed to provide a broad spectrum of sites to which K–12 teachers are exposed and which are attracting particular attention (not intended to be a comprehensive list, but rather a broadly representative sample). For a full list of sites reviewed, see the complete environmental scan (available for download and reuse on the research wiki).
Check out What We Have Learned So Far: Environmental Scan (Part 1) for information on methodology and scan findings across categories. This post concerns itself more with the findings within the specific categories of sites that were examined, looks at specific examples of best practices, and offers specific guidance and conclusions based on the study.
Findings Within Categories
Museum Education Sites
(For a full list of sites reviewed, see the complete environmental scan, available for download and reuse on the research wiki.)
While museum sites are continuing to make credible advancements in developing and deploying tools that allow educators the means to independently save and distribute educational content, few provide open learning resources and curriculum elements that can be shared easily within and across different websites. Museum sites still serve as a primary publishing point for curriculum collections and materials as generated by centralized, internal teams, and those materials are largely deemed effective and comprehensive across educator audiences. Yet research shows that greater learning gains are achieved when digital resources successfully integrate tools for student/teacher collaboration in conjunction with institutional goals and intentions for the curation of those very same resources. The challenge is how to translate deep curatorial knowledge into educational content for both teacher and student. Curatorial knowledge is usually considered authoritative and not immediately predisposed to discovery modes of learning central to personalized learning.
The number of museum agencies electing to complement collection assets with interactive tools remains modest. As teachers continue to make resource modifications and produce supplementary materials to create greater accessibility for more students, those modifications and guidance documents that promote deeper student discovery and interaction with the resources go largely unknown.
Additional findings:
Most sites were easy to search. Keywords, tags, and drop-down menus enabled the user to quickly find resources.
The origin of the material is reliable and updated regularly. Museum resources carry authority and are internally vetted by museum and other experts.
Social sharing buttons are well integrated into most sites.
None of the sites listed offer:

multiple modes of educational resource discoverability
customization of resources for classroom instruction and implementation
opportunity to interact with content and promote advanced online learning exchange
opportunity to share instructional modifications and supplements online.
General Education Resource Sites
(For a full list of sites reviewed, see the complete environmental scan, available for download and reuse on the research wiki.)
The general education resource sites differ in their approach to audience. Where the museum sites reviewed tended to be more focused on the teacher-user, the education sites reviewed were designed with a broader audience in mind that would include the student and sometimes parents.
Digital Collection Sites
(For a full list of sites reviewed, see the complete environmental scan, available for download and reuse on the research wiki.)
The digital collection sites offer the deepest and most expansive digital assets. These sites contain thousands of resources (primary sources, audio, visual, text, etc.) that have been aggregated from numerous individual collections. Many of the sources are other museums, databases, archive collections, national libraries, and user-generated content (archive.org). The fact that these sites contain such extensive data is a strength. However, some of the sites appeared cluttered or difficult to navigate.
Best Practices
A secondary evaluation of sites was performed using a framework to examine the degree to which sites offer functionality relevant to the development of the Learning Lab: Authoring and Lesson Building Tools; Online Exhibitions; Creating Instructional Portals and Student Accessibility; Ease of Navigation and Search Features; and Numerous Contributors and Partners. Reviewers did not find a particular website that exemplified best practices in all areas examined.
Authoring Tools and Lesson Builders
The Kennedy Center: ArtsEdge
This site provides users with lesson plans, audio stories, video clips, and interactive online modules that are aligned to both national and state standards for the arts. The site provides multiple modes to discover resources through the pre-grouping in easily reorganized lists. These are sorted according to grade level, subject area, and can be viewed in a list view as well as thumbnail view. Each lesson plan is very clearly laid out and includes time required, overviews as well as supplemental materials, and built-in tools that enable the user to display pieces of the lesson in several different formats. This format allows the user to see the resources and sort them in a specific manner.
The National Archives Experience: DocsTeach
This site is compelling at first glance. There are templates for lesson building that simply need input and personalization from the teacher. Correlated to National History standards, the site utilizes Bloom's taxonomy.
Thousands of primary source documents are ready to print or use within an educator-designed, interactive, and student-driven activity. The main structures of the activity are a variety of expository text structures (sequencing/sequential, "weighing the evidence"/compare-contrast). Multiple modes of educational resource discoverability are supported through the streamlined and uncluttered site design. Users can create (and save) their own activities and can also view other educators' activities (with their supplemental notes saved as well, when educators have added them). This process allows for both the customization of resources for classroom instruction and implementation as well as the opportunity to share instructional modifications and supplements online with other educators. Some of the lesson plans are designed in-house and available on the homepage, and others are curated from other users on the site. Students can complete the assignments online and email the results to the teacher through the site. Hyperlinks are provided on the activity page for teachers to post to a website for their students. Through these processes, this site provides users, their colleagues, and their students with the opportunity to interact with the content through meaningful exchanges. The site promotes advanced online learning exchanges at a level that is not offered by other sites. Overall, this site possesses a clear layout of resources and is very streamlined with large icons and simple words.
North Carolina Museum of Art: ArtNC
This site allows the user to build concept maps around pieces of art. By providing the user with this ability to customize resources for classroom instruction and implementation, ArtNC includes features that enable users to assemble the resources for use within the classroom. These "concept maps" list grades, subjects, and concepts, and can be used within a class to specifically teach educator-designed concepts like "family," "cycles," "interdependence," etc. Lessons are also provided that contain assessments, resources, background information, and comments from other users. The user is equipped with tools to interact with the content and has an opportunity for advanced online learning exchange through the comments from other users. Complete lesson plans also list student learning objectives and standards. The Concept Map building platform is what this site does best.
ArtNC was also highlighted as especially helpful to teachers of special education students. Easy Approaches to Teaching with Objects offers important differentiation for Special Education Students. Using the concept maps provides a way to build comprehension for a text.
Philadelphia Museum of Art Education
This site gives users the opportunity to interact with content and create a "My Museum" profile. Users put together galleries of their favorite objects from the online collection. Through the customization of their own 'tour' and then sharing resources with others, this site provides its users with the opportunity to share their instructional modifications. The ability to customize resources for classroom instruction and implementation is also present. This site also provides tools that are useful to teachers needing to adapt resources for struggling students.
Online Exhibitions
While not offering customized tools, the following sites do offer curated resources for supporting teaching and learning in an interactive setting. When sites enable students to navigate through interactive modules and simulations, it encourages them to further their own learning, despite shortcomings in time or location dependencies. The following sites expand existing information into activities, presentations, and online museum spaces and tours that the students can access independently or with a teacher.
The British Museum
In the children's section of the site, the British Museum offers online tours of different countries through resources within their museum collections. Users can browse through objects representing Africa, Asia, the Americas, Britain, Egypt, Europe, Japan, Greece, the Middle East, the Pacific, and Rome. Additionally, through their "Museum Explorer" program, students can select either an area from a map or a topic, or both, and are then taken to a site with a variety of resources for the student to browse.
The New York Public Library: Tools for Teaching
This site provides web-only presentations based on its collections that include interactive elements or curriculum ideas. A few examples are "Immigrant City," "African Americans and American Politics," and "Historical Postcards of New York City."
Tenement Museum
This site is a virtual New York tenement house. There is also a "Become an Immigrant" simulation where students go on a virtual journey from Ellis Island to an immigrant quarter of the city. Other simulations enable students to interact with history in a more tangible and engaging manner.
Creating Instructional Portals and Student Accessibility
The following websites stand out as strong examples of how organizations are making their resources accessible for student use and inquiry. The ability to collect, synthesize, and analyze information on their own is an important skill that students need to develop in order to thrive in the 21st century. These websites encourage students to access materials on their own, allow teachers to present resources to their students, and enable educators and parents to monitor student use.
The Jason Project
Jason is similar to the other general education sites in that it allows teachers to create a portal and share selected activities with students (who connect to the teacher by registering with a class code). What Jason provides that sets it apart is the "My Journal" feature, where students can write entries as they explore various resources. These entries are saved in the student journal, rather than within the resource itself. The journal is shared with the teacher as an assessment tool.
Khan Academy
Khan Academy is similar to other video-driven resource databases designed for student independent use. Khan Academy's innovation in regard to digital technology in the classroom stems from its ability to track student usage and send reports to teachers. In fact, this ability has proven useful for schools where classrooms are using the videos as content reinforcement in a flipped classroom environment. This situation is called "flipping" because it allows for instruction to occur at home while practice is completed in class. In optimally flipped classrooms, personalized instruction occurs with more hands on help from the instructor.
National Geographic Education
National Geographic is an example of building context around a resource in order to provide students with background knowledge and a "full service" learning experience. Articles come with vocabulary lists, links to additional resources, interactive modules, and suggestions for further reading. There is also a sidebar area with a glossary of key words that students can use for reference and an encyclopedia applet so that students can look up information relating to the resources within the same frame.
PBS Learning Media, California
PBS Learning illustrates how sites can create an online space for teachers to link resources, rearrange elements or create a mash-up that fits their needs. PBS Learning allows teachers to create an online space where they can link different resources together in folders and create a sequence of resources that can be shared with students.
Ted-Ed
Like PBS, Ted-Ed is developing ways for teachers to create an activity that students work through independently. Ted-Ed allows teachers to work from a video resource to add their own context, discussion questions, and video breaks to create the activity they want. Ted-Ed allows teachers to determine the context by providing background readings, discussion questions, worksheets, or graphic organizers that fit how the teacher wants the student to use the resource. Additionally, Ted-Ed will track data on sample questions and send students' grades to the teacher.
Ease of Navigation and Search Features
Aggregator sites that pull from a large number of contributors create a single entry point for teachers to get a broader selection of resources. These sites differ remarkably in interface and design but each offers something unique to the teacher.
Gooru Learning
This site succeeds in bringing together multiple contributor sites and creating harmony and an intuitive interface. Search results appear as thumbnails that are categorized under headings for each type of digital resource (i.e., videos, interactive modules, quizzes). Gooru also has a feature to display the partner resource in an applet within Gooru, which saves the user time by eliminating the need to navigate back and forth between Gooru and any external sites.
OER Commons
This site is another example of an open commons that brings together resources from users and third party contributors. OER is most like Thinkfinity (see below) in the way that users are often directed outside the platform in order to access a resource from the original third-party contributor. OER stands out, however, in how it uses Open Author to bring these sources together and to flag each source with a unique and clear "Conditions of Use" from the original creator. Users can filter searches by "Conditions of Use" and "Content Source," which adds a beneficial layer of protection to the commons format.
Thinkfinity
This site offers many search features, filters, and the ability to look through a list of standards for each state or the Common Core. While tech-savvy teachers may revel in the options, it is somewhat difficult to navigate back and forth between Thinkfinity and the Thinkfinity Community. The search results are text-based, with a written description of each resource. The links take the user out of Thinkfinity to the original contributor site. This results in a lot of time spent weeding through resources and being redirected to the partner site for each one.
Numerous Contributors and Partners
The following sites offer deep collections of their own or aggregated collections from multiple partners (or both). This type of depth, when designed with such an intuitive interface, provides the user with more high-yield searches.
Europeana
This site combines the collections of individual libraries, audiovisual collections, archives, and museums across Europe. It is fairly easy to navigate and is primarily designed for teacher-users to provide interpretation for their students. However, it could also be used as a resource for students compiling content. It includes primary source materials and allows users to create profiles and customize pages for the storage of content of interest. Also available are tagging, to sort the resources, and a community space.
The Internet Archive
This site offers a deep collection of primary documents, audio, video, and other materials from a large variety of sources, uploaded by program-savvy users. The images are clear, and the user is able to preview images or resources before accessing them. While there is a vast amount of content, the navigability of the site is compromised because of the layout.
National Gallery of Art: NGA Images
This site provides public access and is primarily meant to be interpreted by the teacher for the student. Primary source materials (artworks) are available and users can create "lightboxes" to store images they find interesting or useful. This gallery view is convenient for previewing images.
Smithsonian Institution: Collections Search Center
This digital collection allows access to many different databases, archive collections, library catalogs, and museum collections in an easy-to-search platform. Again, this site seems designed with a teacher, researcher or sophisticated user in mind. The search capacity is extensive; results can be filtered by grade, subject area, or resource type. Key terms are automatically generated below a general keyword search. Users can create profiles and customize pages for the storage of interesting content.
Conclusions and Recommendations
If we examine the features and functions most available to teachers on the 32 sites reviewed, we can conclude that teachers have the opportunity on many sites to find and share content that is valuable to them in the classroom. What is not being provided, and what the literature tells us that teachers want, are sites that offer:
Flexible assets for use in multiple ways with students to engage their interest.
Tools that maximize the use of high-quality images.
Tools and suggestions to help users adapt resources for diverse learners.
Content aligned to Common Core standards.
The ability to collect and save resources in a dedicated space on the site.
Easy ways for viewing content and search results.
This review also points out gaps in the areas of assessments tied to content, flexible media display options, user profiles, and the ability for users to add their own resources to their collections or folders.
We should explore the extent to which teachers can further maximize the use of Smithsonian assets by providing features such as:
Easy-to-use search and save features
User profiles to facilitate customized search results
Options for viewing search results to facilitate analysis of content
Tools that maximize the high-quality images in the Smithsonian collection
Tools that enable teachers to assemble content within their own schemas with helpful hints or adaptable templates
Assessment tools
Tools for adding additional resources
Student-friendly tools that are learner-centered
---
This post summarizes, and at times excerpts from an original research report commissioned by the Smithsonian Center for Learning and Digital Access from our formative research collaborators Cross & Joftus and Navigation North in 2012. The following individuals, in addition to the author, made significant contributions to the research design, data collection, analysis, and writing of the original reports and should be acknowledged and credited: for SCLDA: Michelle Smith, Pino Monaco, Melissa Wadman; for Navigation North Learning Solutions: Joe Hobson, Brian Ausland, Daniel Krieger, MaryRose Lovgren; and for Cross & Joftus: Christopher Cross, Virginia Adams Simon, John Ittelson, Clark Quinn, Dilan Maherdran, Virginia McMunn, Griffith Montgomery, Jillian Ryan; and Steve Midgley.
The environmental scan was funded by a Smithsonian Youth Access Grant administered by the Office of the Assistant Secretary for Education and Access, with contributions by the Pearson Foundation, Brokers of Expertise of the California Department of Education, and the Council of Chief State School Officers.
---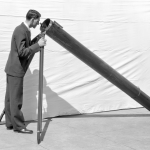 Image: Holcomb Reflecting Telescope
Amasa Holcomb (1787-1875) was a self-taught astronomer, surveyor and photographer, and the first American to make telescopes for sale. In 1833, the American Journal of Science reported that he "manufactures spy glasses of every description now in use; also achromatic telescopes of forty eight inches focal length" and "reflecting telescopes of from eight to twelve feet focal length." The Franklin Institute in Philadelphia reported that Holcomb's reflecting telescopes compared favorably with instruments imported from Europe at much greater cost.