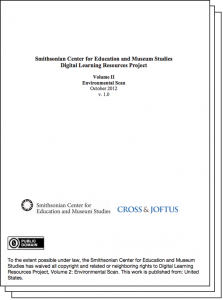 A second phase of investigation was conducted during the formative research phase of the project in 2012. Following the literature review, in order to gain insight into the current trends in digital learning, an environmental scan was conducted to inform development of the Learning Lab. A list of 32 websites for review was developed to provide a broad spectrum of sites to which K–12 teachers are exposed and which are attracting particular attention (not intended to be a comprehensive list, but rather a broadly representative sample). For a full list of sites reviewed, see the complete environmental scan (available for download and reuse on the research wiki).
We organized these sites into three categories and made these general observations:
Museum Education Sites
Reviewers found that while museum sites are continuing to make credible advancements in developing and deploying tools that allow educators the means to independently save and distribute educational content, few provide open learning resources and curriculum elements that can be shared easily within and across different websites. Museum sites still serve as a primary publishing point for curriculum collections and materials as generated by centralized, internal teams.
General Education Resource Sites
The general education resource sites differ in their approach to audience. Where the reviewed museum sites tend to be focused on the teacher-user, the education sites were designed with a broader audience in mind, an audience that includes students and sometimes parents. Museums are beginning to offer these features as well, but their perspective on the identity of the audience still focuses largely on the teacher as the main user.
Digital Collection Sites
The digital collection sites offer the deepest and most expansive digital assets. These sites contain thousands of resources (primary sources, audio, visual, text, etc.) that have been digitized and sometimes aggregated from numerous individual collections. Many of the sources are other museums, databases, archive collections, national libraries, and users (i.e., archive.org).
Given the information available from the user analytics and the literature review, we developed a clear consensus on the type of navigational needs and digital assets teachers were looking for and the flexibility required to make use of them in the classroom. With that knowledge in mind, the goal of the environmental scan was:
To investigate who, if anyone, was offering those experiences and assets. To discover what sites were offering the necessary filters and tools for discovery, adaptation, annotation, saving, and sharing of learning resources?
Methodology
Throughout the development of the Learning Lab, listening and acting on the voice of the teacher has been paramount. We have often found that without this voice, research findings tend to become more academic than actionable. In order to answer the project's goal, the research team worked with a panel of three teachers who regularly access and use digital learning resources in their classrooms. These teacher reviewers followed a strict time analysis methodology to search for resources focused on a specific topic with a series of actions that addressed the review criteria.
The teachers were instructed to approach the scan as if they were searching for instructional materials for their classrooms. They utilized the search functions available on each of the review sites and used the available tools to find a specific resource on a specified topic. When such a resource was identified, it was analyzed and documented in a frame of potential classroom implementation. These activities as well as the features of each site were charted with a framework focusing on functionality related to search, navigation, instructional modification, interactivity, and annotation. For the complete methodology, evaluation framework, etc., see the complete environmental scan (available for download and reuse on the research wiki).
Findings Across Categories
After an examination of all 32 sites across the three categories yielded some common technical features and content assets that seemed essential to addressing the research question.
Technology and Design
(how audience is interpreted and how open and accessible is the content)
59% of sites were designed primarily for a teacher audience, with museum sites represented the largest proportion. While general education sites were designed primarily for a mixed audience of teachers and students, teachers were still recognized as the primary user. Other relevant findings:
Site content favored high-speed internet and recent (previous 2 years) browsers
13% offered some content in languages other than English
Accommodation for handicapped or learning-disabled users was not commonly observed.
Searchability/Findability
Most sites facilitated search for resources through keyword search or drop down menus. The reviewers were able to find content close to what they were looking for with general search terms. Other relevant findings:
Some sites offered a taxonomy of terms to enable browsing
Several sites offered search filtering by grade, subject, or resource type
Three sites offered filtering by both state and Common Core standards
Content Assets
The digital learning resources represented in the selection of 32 sites was varied, but mostly consisted of primary source materials, lesson plans, and interactive modules. 70% of the sites contained primary source materials, sound clips, and videos. 66% contained lesson plans, and some offered a way for the user to group resources into a shareable combination that could supplement a lesson plan. 68% offered interactive modules that students or teachers could use and manipulate, or games for students. Other relevant findings:
16% offered real-time content or virtual museum spaces or tours for students with limited ability or resources to visit the actual museum.
Most sites' content were focused around specific topic areas, generally along the same lines as the museum itself.
Users could not contribute materials nor tailor the content to fit their needs.
19% offered commercially licensed materials for sale on the site.
Annotation/Sharing Capacity
The ability to share, rate, and comment on resources varied widely on the sites that were viewed. When one could comment on or rate a resource, a login was necessary. The ability to share a resource, however, was extremely widespread. In most cases, sharing buttons (for social networks) were usually on the resource page.
Slightly more museum sites than general education sites offered the ability for teachers to build lessons with existing content, but this is overall not widely available on either museum or general education sites. Only 33% of museum sites and 23% of general education sites allowed teachers to build lesson plans.
Presentation/Accessibility
Visualization of search results was an important issue raised in the literature. Users need sufficient data about the success of their searches in order to determine whether a resource should be extracted or is of value to the user. Reviewers found that the images and videos displayed were regularly accompanied by appropriate text or metadata to render them easy to analyze. The descriptions surrounding the objects, however, were most often written for an adult audience, and not deemed "kid-friendly." The images were usually clear and easy to view and read.
Tools and Functions
Toolsets for lesson building were rarely found. Very few of the sites offered the ability to create a lesson through extraction of present content, integration of other resources, or implementation within a specific setting. On some of the sites that did offer lesson plan functionality, however, the researchers found that there were two types of lesson plans offered: 1) a pre-constructed lesson that contained supplemental materials and resources from the site and 2) a platform on which to organize resources in a presentable way, but not necessarily contribute supplemental materials such as Word documents or self-created PDFs.
The pre-constructed lessons were generally created by museum employees or contractors. They included graphic organizers, vocabulary lists, discussion questions, timelines, or tests and quizzes. These supplements were limited and usually age-specific, so teachers would need to adapt them. In the second type of lesson plan, teachers were able to curate and organize the content (such as works of art) into a structure that made logical sense to them, in order to share it with their classes. However, in these plans, the ability to contribute supplemental materials was not evident. Other relevant findings:
Most sites didn't include tools that provide users a means to display or render the resources with the intent of demonstrating them to a classroom, other than the simple use of a VGA cable. By copying the URL, teachers could push these plans onto a student-access view page externally, but tools to do so were not provided.
Tools or functions available to help one assess the learning outcomes of the lesson within the site were not observed.
There was a nearly complete lack of available lessons or resources that could be used with an interactive whiteboard.
Intellectual Property (IP) and Usage Policy
In relation to digital repositories administered by museums, while the museum often has physical possession of the artifact, the individual copyrights of and usage policy governing any one artifact is determined by the provisions agreed upon by the artifact owner. These can be highly specific to a given collection or even to individual items within a collection and vary widely across collections that are under a museum's stewardship.
Some museums additionally have works under no copyright (public domain) and, at times, works under unknown copyright. Ultimately, even when individual copyrights can be established for individual artifacts, those copyrights vary significantly across a museum's assets and are then subject to modification when determining the development of third-party metadata, user-generated paradata, and derivative works.
Within each category of sites reviewed here—Museum, General Education, and Digital Collection—there appear to be several varied approaches to end-user policies and IP. Each site has a specifically tailored usage policy depending upon content and types of users (educators, students, learners, etc.). Museum and digital collection sites have more complicated IP constraints than general education sites due to the ownership/provenance of the real world artifacts in their collections, a large majority of which were obtained prior to digitization and the advent of mass, online dissemination.
Most general education sites on the other hand, do not physically possess the same types or amounts of actual assets. In many instances, the real property of education sites is intellectual in nature and format and/or an aggregation of third-party resources and data from partners and users alike. (More information on the policy that will govern the Learning Lab: Smithsonian Terms of Use).
Part II of the Environmental Scan update looks at findings within the three individual categories, best practices with specific examples, and shares conclusions and recommendations.
---
This post summarizes, and at times excerpts from an original research report commissioned by the Smithsonian Center for Learning and Digital Access from our formative research collaborators Cross & Joftus and Navigation North in 2012. The following individuals, in addition to the author, made significant contributions to the research design, data collection, analysis, and writing of the original reports and should be acknowledged and credited: for SCLDA: Michelle Smith, Pino Monaco, Melissa Wadman; Navigation North Learning Solutions: Joe Hobson, Brian Ausland, Daniel Krieger, MaryRose Lovgren; and Cross & Joftus: Christopher Cross, Virginia Adams Simon, John Ittelson, Clark Quinn, Dilan Maherdran, Virginia McMunn, Griffith Montgomery, Jillian Ryan; and Steve Midgley.
The environmental scan was funded by a Smithsonian Youth Access Grant administered by the Office of the Assistant Secretary for Education and Access, with contributions by the Pearson Foundation, Brokers of Expertise of the California Department of Education, and the Council of Chief State School Officers.
---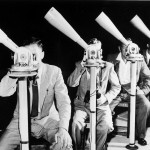 Image: Moonwatch Volunteers, 1965
Volunteer satellite trackers in Pretoria, South Africa, for Smithsonian Astrophysical Observatory's Moonwatch Network, one of more than 100 teams worldwide. Volunteers used the "fence method" of observing the sky. Each observer covered a small, overlapping portion of a specific sky quadrant, and watches for the passage of the satellite in his telescope. The instrument used was the Moonwatch Apogee Scope, a 20 power telescope with a 5-inch objective lens. The Moonwatch teams backed up an optical network of 12 Baker-Nunn tracking cameras.