New White Paper Suggests Ways Using the Lab Can Achieve Educational Goals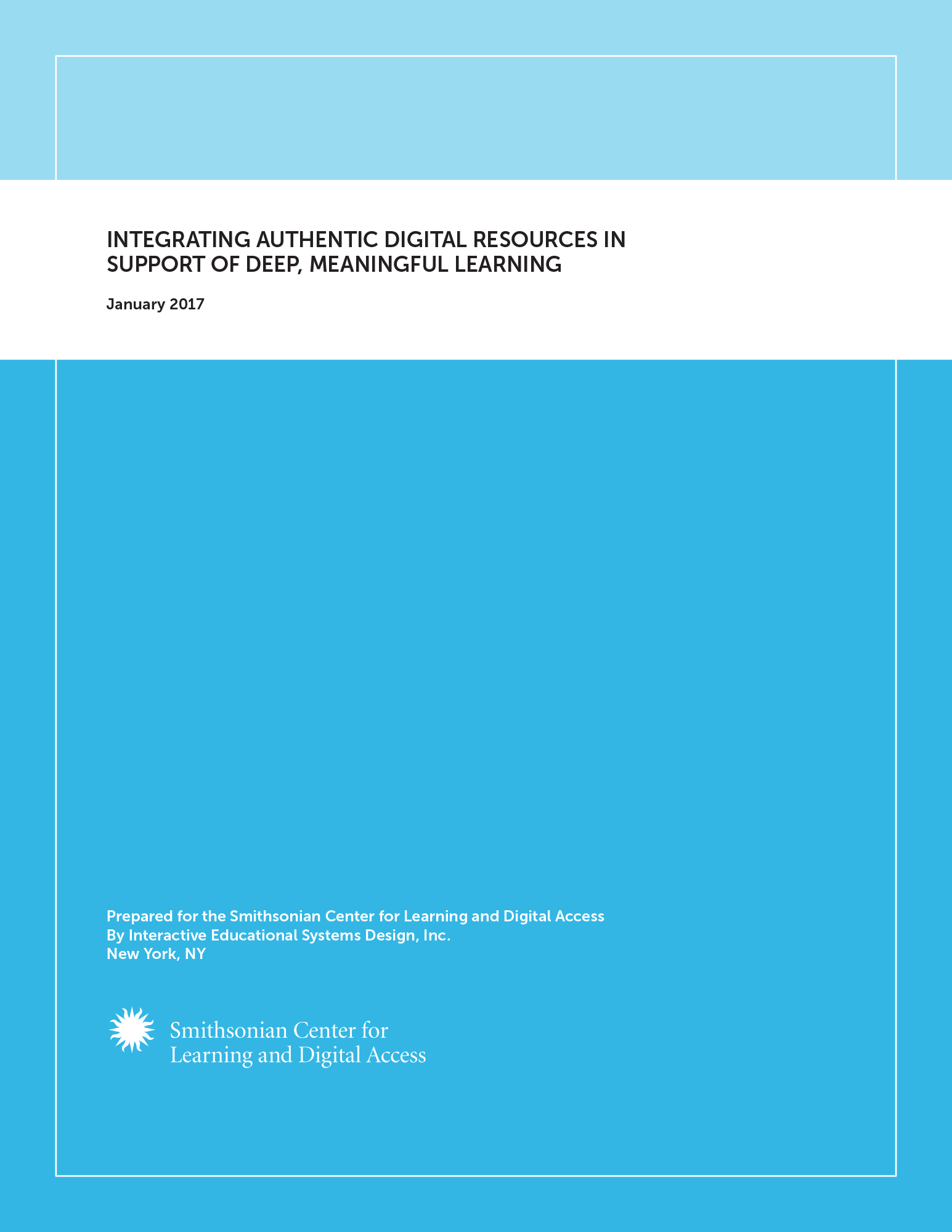 "Integrating Authentic Digital Resources in Support of Deep, Meaningful Learning," a white paper prepared for the Smithsonian by Interactive Educational Systems Design Inc., describes instructional approaches that apply to successful teaching with the Smithsonian Learning Lab.
After defining its use of terms such as deeper learning and authentic resources the authors review the research basis of three broad approaches that support integrating digital resources into the classroom:
Project-based learning
Guided exploration of concepts and principles
Guided development of academic skills
These approaches find practical application in the last section of the paper, which includes seven case studies. Examples range from first-grade science, to middle-school English (including ELL strategy) to a high-school American government class. In each example, students study and analyze digital resources, going on to apply their knowledge and deepen their understanding of a range of topics and problems.
---
The case studies referenced in the white paper on pages 13–20 are based on the following Smithsonian Learning Lab collections:.
Beaks and Tails (Grade 1 Science Exploration, by Jon Berg)
Animal Adaptations: Beaks, by Jon Berg
Animal Adaptations: Tails, by Jon Berg
Portraiture and Personal Identity (Grade 1 Interdisciplinary Project, by Susan Koch)
Defining Portraiture, by Ashley Naranjo
African Masks (Grade 6 Social Studies Project by Kelly Heilman)
African Masks, by Kelly Heilman
Using Authentic Resources to Explore Stories (Middle School ELA Exploration, by Kathy Powers)
Through Bud's Eyes: An exploration of the history behind the novel Bud, Not Buddy by Christopher Paul Curtis, by Kathy Powers
Writing Inspiration: Using Art to Spark Narrative Story Elements, by Kathy Powers
Investigating the Revolutionary War (Grade 8 Social Studies Project, by Jane Joyce, Scott Slater, and Shannon Martindale)
American revolutionary war coin, by student Matthew Muldowney
Revisiting the 1824 Presidential Election (Grade 8 Social Studies Project, by Tom Gray)
Andrew Jackson Campaign Poster Creation, by Tom Gray
Local Connections with the Civil Rights Movement (High School American Government Exploration, by Kris Hupp)
Civil Rights Movement in Pittsburgh, by Linda Muller
---
Image: Shakespeare Reading (detail), by William Page
Smithsonian American Art Museum