Austin's Asian American Pacific Islander Roots
By: Hanna Huang, Culture & Arts Education Coordinator and Acting Supervisor of the City of Austin Asian American Resource Center

When the Asian American Resource Center (AARC) in Austin, Texas, embarked on the project of hosting a Smithsonian Learning Lab Teacher Creativity Studio, I knew we would be working on a solid foundation. For the nearly five years the AARC has been open, our education team has been working to define Asian American Pacific Islander (AAPI) programming. We see each AAPI community as special and unique in its makeup, much like the many cultures, ethnicities, and languages that comprise what we know as AAPI. One of our programs is an exhibition with our partner in the Austin Public Libraries –Austin History Center.
Our staff worked with Austin History Center's first Asian American community archivist to create Waves of Hope, an exhibit of panels that chronicles some of Austin's Asian American history and current community, back when we were preparing to open our doors for our Grand Opening on September 28, 2013. On our opening day, we proudly observed the crowd as they looked through the panels on display. I still remember vividly the moment when one gentleman and his family stopped to inquire which panel their family was featured in, only to discover they were standing right by it! For months after, we continued to receive visitors that loved taking us over to a particular panel and telling us the stories and experiences they had as either the individuals featured or as a family member or friend with fond memories of the featured individuals.

Five years later, this opportunity to work with the Smithsonian and use the Learning Lab platform has given me an opportunity to revive the exhibit again in a digital form for audiences far and wide. You can learn more about Austin, Texas's Asian American History and see the exhibit in the Learning Lab as Waves of Hope: Asian American History in Austin. As you work your way through the panels, you can not only see all the images and texts from our exhibit but also find learning tools to help you with teaching topics such as Asian Pacific American history, immigration, Texas history, primary/secondary sources, and more! The exhibit takes viewers from the late 1800s to the 1980s and beyond.
I invite you to take a peek into Austin's Asian American Pacific Islander history through this newly digitized exhibit. I invite you to reach out to us and tell us the story of how you connect to it. I invite everyone to continue uncovering and sharing their stories of Texas history that do not often grace classrooms or history books so that one day we can change that. Visit the Asian American Resource Center at 8401 Cameron Road, Austin, TX 78754 or get in touch with us at aarc@austintexas.gov and 512-974-1700.
The Teacher Creativity Studio program received Federal support from the Asian Pacific American Initiatives Pool administered by the Smithsonian Asian Pacific American Center.
---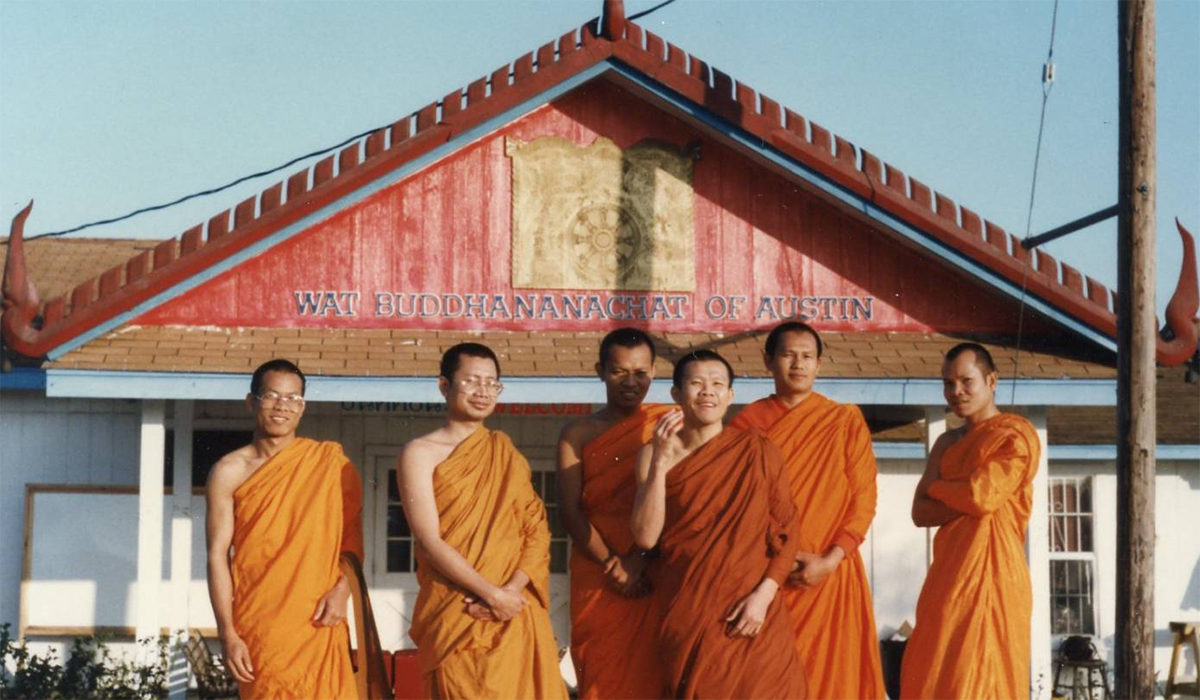 Image: Wat Buddhananachat of Austin. The Buddhist temple Wat Buddhananachat of Austin was established in 1986. It is a nonprofit organization that serves as a center for religious and cultural activities for Theravada Buddhists of different ethnic communities in Central Texas. The temple has a membership consisting of Thai, Laotian, Cambodian, Burmese, Vietnamese, and Sri Lankan people as well as other American citizens. Austin History Center.