American Indian Heritage Month: An Opportunity to Try New Ways of Educating about Native Americans
by Edwin Schupman, Manager of National Education, National Museum of the American Indian
Are you tired of the same old lessons about ancient American Indian food, clothing, and shelter? Why not use this year's American Indian Heritage month to try something new and different from the National Museum of the American Indian (NMAI)? The museum is engaged in Native Knowledge 360°, an exciting new national initiative to support improved teaching and learning about the Native peoples of the western hemisphere.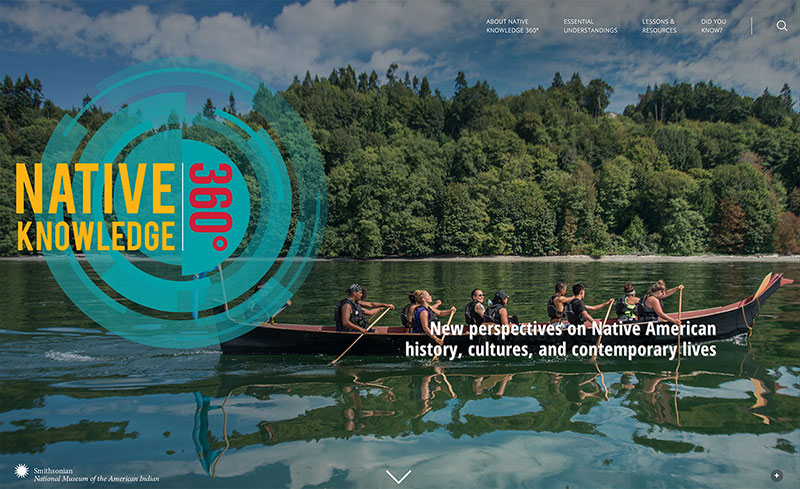 Native Knowledge 360° provides educators and students with new perspectives on Native American history and cultures. Most Americans have only been exposed to part of the story, as told from a single perspective through the lenses of popular media and textbooks. Native Knowledge 360° provides educational materials that incorporate Native narratives, more comprehensive histories, and accurate information. Our educational resources challenge common assumptions about Native peoples—their cultures, their roles in U. S. and world history, and their contributions to the arts, sciences, and literature. Native Knowledge 360° offers a view that includes not only unvarnished history but also the richness and vibrancy of Native peoples and cultures today. Visit our website search engine to explore the educational resources we've developed for teachers and students.

In 2014, NMAI opened the exhibition Nation to Nation: Treaties between the United States and Native Nations. Treaties lie at the heart of the relationship between Indian Nations and the United States, and this exhibition explores the history and legacy of U.S.–American Indian diplomacy from the colonial period through the present. Check out this treaties-related Learning Lab collection that we posted recently. Use the objects, videos, and online lessons in this collection to help inform your National History Day project or an inquiry into treaty history.
National History Day 2018­—Compromise After Conflict – Ages 12-18
You've probably seen beautifully woven Native American baskets. Have you ever wondered about the techniques used by master Native American weavers? This collection explores plaited and twined woven objects from the Native Nations and cultures of the North Pacific Coast.

North Pacific Coast Weaving Traditions – Ages 5 - 12
Making star quilts is an important artistic and cultural tradition among many of the Native Nations who call the Great Plains home. Use this collection to discover the importance of stars to Lakota people, then use the star quilt pattern to create a symbolic quilt that represents your school.

WHAT DO YOU KNOW ABOUT Star Quilts – Ages 5 – 12
---
Image: Tipis Around the Lake (detail).
Date created: 1968-1988
Artists/Makers: Emma King (Emma Little Bird King), Yanktonnai Nakota/Dakota (Eastern Sioux), 1920-1994
Place: Fort Yates, Standing Rock Reservation; Sioux County; North Dakota; USA (inferred)
Format/Object name: Quilt
Media/Materials: Cotton cloth, muslin, cotton-synthetic cloth, thread
Techniques: Sewn, pieced, quilted
Collection History/Provenance: Collected or purchased between 1968 and 1988 by quilt collector Florence Pulford (1923-1989); inherited by her daughters Ann Pulford Wilson and Sarah Pulford Zweng; purchased by NMAI in 2007 with the generous support of the Smithsonian Women's Committee.
Dimensions: 228.2 x 196.6 cm
Catalog number: 26/6371