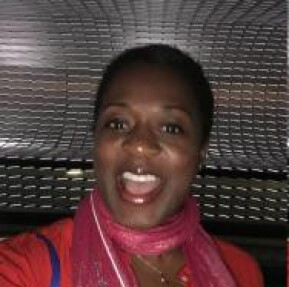 Sher Anderson Petty
Educator
Montgomery County Public Schools, Maryland
High School (16 to 18 years old)
Teacher/Educator, Curriculum Developer
Language Arts And English :
When I was a little girl, during summers spent visiting my grandparents in Eatonville, Florida (the first Black incorporated township in the USA), my way of being in the world earned me the southern pejorative "womanish" from my Nana. I apparently struggled with the Black southern norms around children figuratively and literally "staying in their place". I recall one such occasion when I refused my Nana's directive to eat all of the food she had lovingly prepared and doled onto my plate. I refused and offered my unsolicited rationale explaining to her my parents' belief that indiscriminately cleaning one's plate teaches a kid not to self-regulate and that it was best to eat a moderate amount of each of the food groups represented on the plate. I even reiterated this for my mortified mother when Nana called her on the phone in a fruitless attempt to gain my compliance. I remained at the table long after my grandparents, my brother and our cousin finished eating dinner, cleaned the kitchen and retired to the living room to enjoy frozen fruit popsicles while watching a baseball game on television. Needless to say I did not join the clean plate club that day (nor any day since); my nutritional needs were sufficiently met by my moderate sampling of each food group and my Nana and I lived to lovingly lock horns another day. Today I wear "womanish" as a badge of honor that symbolizes my beliefs in acceptance & allowance, authenticity, creativity, equanimity, equity/ justice, & vulnerability. The behaviors that earned me punishment as a child are the very behaviors that contribute to my value as a creative, as a third generation public school educator and as an equity advocate today.
My personal mission to wake up (figuratively speaking) and be a beneficial presence on the planet informs my professional mission to learn-teach and advocate for education equity. With over twenty years experience as a public school educator (for primary & secondary levels) and as a professional developer (for tertiary levels) my philosophy of education aligns with John Dewey's idea that "Education is not preparation for life; education is life itself." This constructivist perspective makes me and my students active working crew co-learning and co-teaching on our shared learning journey and leaves no space for us to be passive passengers being taken for an edu-taining ride. Each of our strengths and growth areas shape the expedition enhancing our process and elevating our outcomes. We all bring value to the table.
At the various tables in board rooms, classrooms, conference rooms and representative assemblies where I sit, I believe my value at the table centers around: (1) my continued love of facilitating and sharing learning as a journey; (2) my continued investment in honing my craft as a teacher of English/ Language Arts with emphasis on critical thinking, rhetoric and writing; (3) my core belief in the life-changing & community building benefits of a world class public school education; (4) my willingness to build consensus while still speaking the sometimes uncomfortable truths to power.
The "womanish" little girl who sat at her Nana & Grand-Dad's dining room table, insisted on facts, persisted, and told inconvenient truths is now a woman (a creative, an educator and equity advocate) who now works doing the same at many tables.